This page is dedicated to collecting and documenting the history of Boise Creek Farm, originally part of a larger homestead founded in the late 1800's by the Brons family. We are grateful to several members of this family for generously sharing with us their family history and photos.

The Original Homestead
The history of Boise Creek Farm begins almost thirty years before our house was built.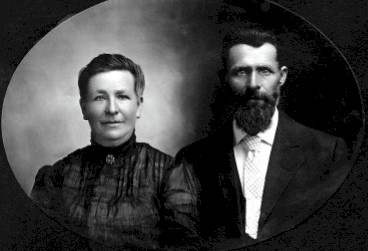 Pioneers Niels and Ida Brons (pronounced Brunz) left their farm in Iowa and arrived in Enumclaw with their first nine children on the 12th of September, 1898. Niels had recently purchased 50 acres just a half mile south-east of town from a Mr. Robert Scott. The land had been cleared of large old-growth trees by Japanese laborers, but many stumps remained. This property is located near what is now the corner of Warner Avenue and Blake Street.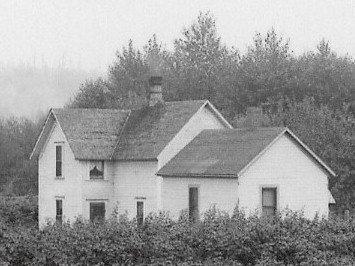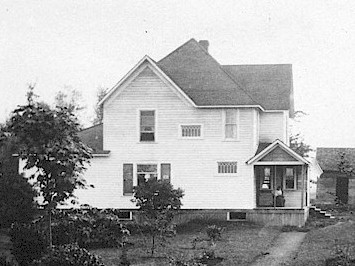 With the help of friends, Niels produced 13 tons of hay and traded it for enough lumber to build a six-room house. He and his family cleared stumps for many years. Over time the house grew to accommodate their growing family. The house (above left) was started in 1898, but is shown as it looked in 1909. The house was enlarged again (above right) in the early 1920's to accommodate the family with now thirteen children.

A Bit About Enumclaw's Early days
Enumclaw, first settled in 1853, began as a small pioneer community with unpaved streets as shown above. The main industries were timber and farming. The name Enumclaw is derived from a Native American term that translates as "place of evil spirits". There is only one Enumclaw – we're unique!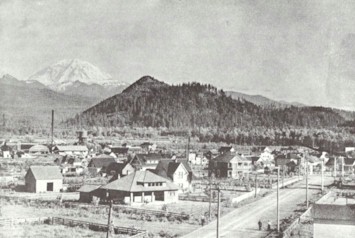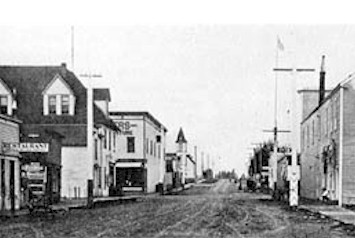 Above (left) is a photo taken from downtown Enumclaw in 1909 looking toward Mt. Peak and Mt. Rainier. The Brons property would be located along the tree line near the center of this photo. Above (right) is a photo of downtown Enumclaw in 1890.

Building a Barn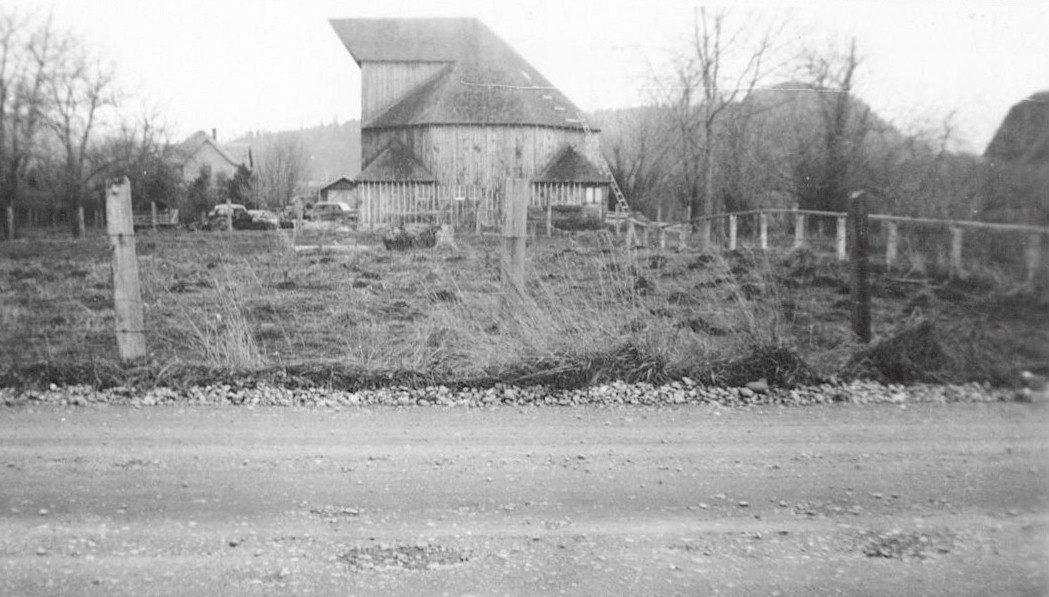 The 1930's photo above is of an eight-sided barn erected by Niels Brons and his neighbors around 1909. According to family lore, Niels was inspired to build an eight-sided barn from a building constructed by Thomas Jefferson at Monticello. Unfortunately, the barn burned down soon after construction. A small portion of the original late 1800's Brons barn roof (now our barn) is just visible at far right. We are looking east from Blake Street with the Brons house in the background to the left and Mt. Baldy in the background to the right.
Niel's grandson, Enumclaw resident Marvin Brons, shares the following:
"My dad (Herb Brons) relayed the story to me about how the eight-sided barn came into being. It was built when he was a young child. His father [Niels Brons] was raising hay for the White River Mill [later known as the Weyerhaeuser Mill] for their horses that they used in logging. In exchange my Grandfather would receive from them lumber. That is how he had gotten the lumber to build the original house. The lumber he got for the barn was all kinds of odd sizes. My dad said his dad decided how to cut it all out to fit together. He planned the shape to use the lumber he had. Niels pre-cut all the lumber, had a barn building party and the local farmers came and helped. He handed out each piece of pre-cut lumber and told them where it was to be nailed. At he end of the day there stood an eight-sided barn."
Another barn stands in this spot today, constructed in 1948 using wood and windows from the original barn. Notice the bracken and trees between the two barns in the photo above. Early records indicate that Boise Creek once flowed between these barns. The creek was diverted in the early 1900's when a drainage ditch was created to control persistent flooding in the district. Today, our house and land (Boise Creek Farm) is located between the site of the original creek and the creek's current location, just two hundred feet to the right of this photo.

Farming the Land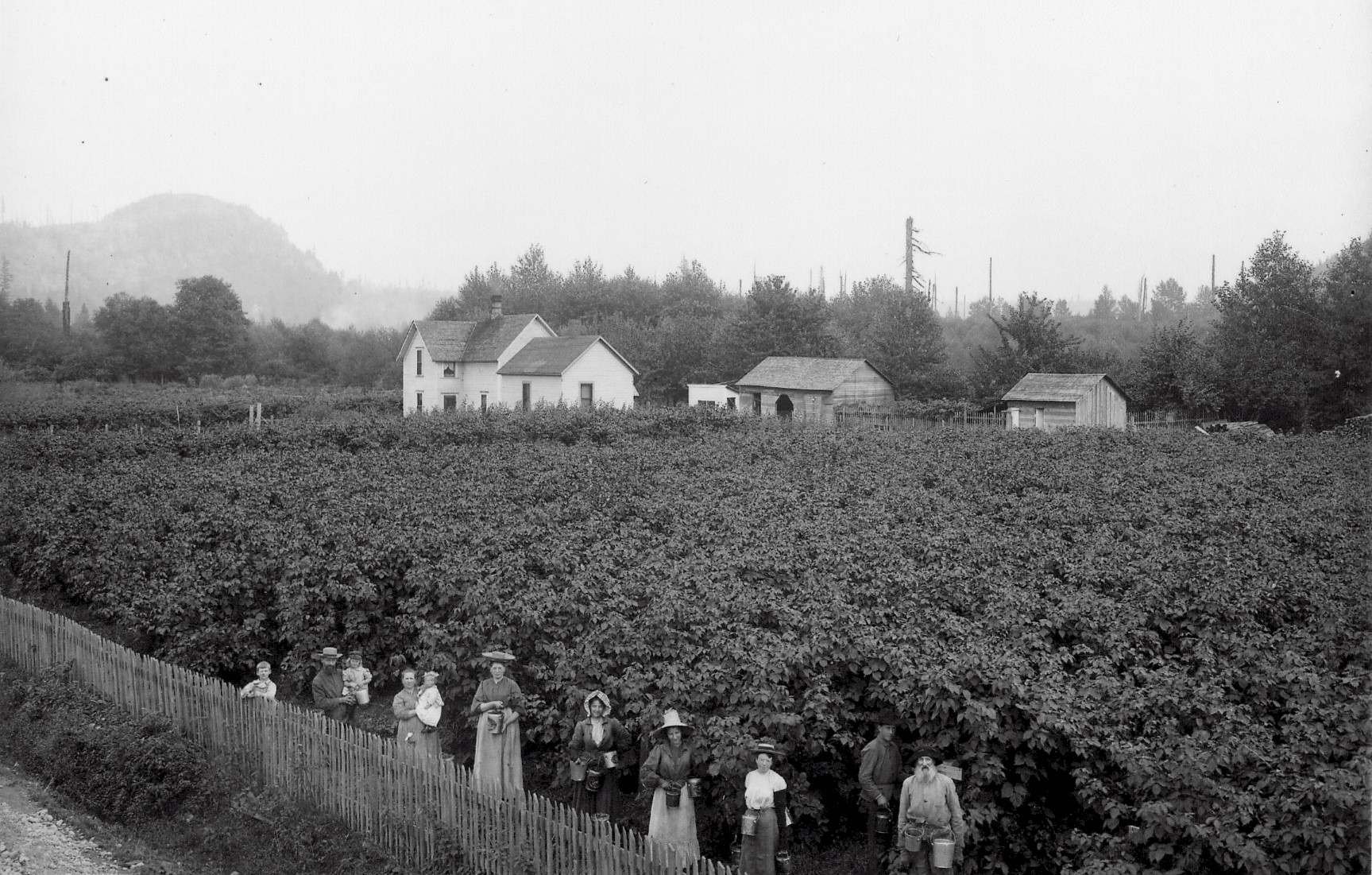 In the 1909 photo above, we see several members of the Brons family standing in front of a berry field that surrounded the Brons home. We are looking south-east from Warner Avenue near Blake Street with Mt. Baldy visible in the background at left. Notice the thickly wooded area behind the house with Mt. Peak just visible at far right. Today this forested area is open pasture. This photo above was featured in the Enumclaw Courier Herald in 2007; the original text is quoted here:
"Marvin Brons brought by this photograph of the Brons' berry field from 1909. The photograph features, from left, his father Herb Brons; grandfather Niels Brons (one of the founders of Mutual of Enumclaw Insurance Company); who is holding Esther Brons; and grandmother Ida Brons, holding Rosamond Brons. The identity of the next person is unknown. From there, pictured are Amanda Brons, Alma Brons, Ella Marie Brons (wife of Marvin's great-uncle Hans Brons), an unknown man, and Paul Boysen (Marvin's great-grandfather). The farm was located at the corner of 456th Street and Blake Street. In the background is the home Niels Brons built in 1900".
The photo was originally published in a 1909 pamphlet by the Enumclaw Commercial Club, promoting local business. The pamphlet states that the berry culture is just being taken up and is proving a success. Niels Brons is mentioned as Secretary of the Enumclaw Fruit Growers' Association.


In this close-up we see Herb Brons; Niels Brons holding Esther Brons; Ida Brons holding Rosamond Brons; an unknown woman; Amanda Brons; Alma Brons; Ella Marie Brons; Hans Brons (Niels's brother), and Paul Boysen (Ida's father).
An excerpt From the book The Only Enumclaw is in the State of Washington, published by the Enumclaw Commercial Club in 1909…
"In the spring of 1907 a large acreage of small fruit—blackberries, red raspberries, evergreen blackberries and Burbank's phenomena berries—was planted in the fertile bottom lands surrounding Enumclaw. The Pack of 1907 comprised over 2,900 cases of different kinds of fruit grown here. To accommodate this pack an addition, 24×70, was built on to the cannery. In March 1908 the capital stock of the association was increased to $10,000. The association has over 200 members who hold stock in the company. Shares are worth $5 each. Being run on the cooperative plan, the proceeds, over and above running expenses, all go back to those delivering the fruit. This year only berries were packed. Our rich alder-bottom land produces an abundance of delicious berries (six tons per acre being considered an average crop) that nets the grower a nice margin. The net proceeds from our cannery for 1906 and 1907 was about 4 cents per pound".
Note: The Phenomenal Berry (Rubus Phenomenal) or 'Burbank's Logan' is a second generation cross (two first generation crosses were crossed to each other) between the blackberry and the raspberry. It was created by Luther Burbank and introduced in 1894. This blackberry-raspberry hybrid had very large flavorful fruit, similar, but superior to the Loganberry (Wikipedia).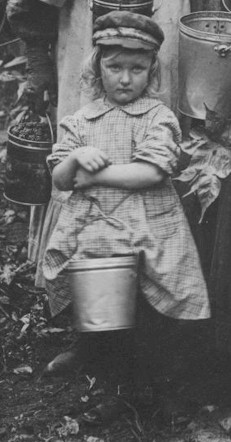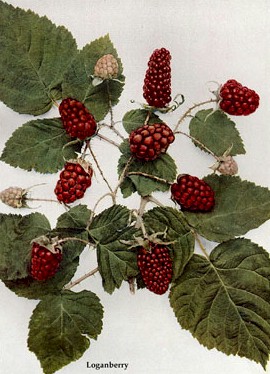 Young Esther Brons helps out in the berry field (1909).

The Brons Family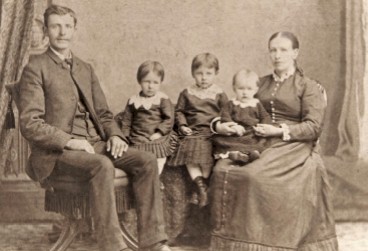 Niels and Ida (~1888) with their first three children: Marie, Lily, and Agnes (above).
Niels Nissen Brons was born in Brons Denmark on November 5th, 1859. Ida Constance Boysen was born in Chicago Illinois on September 13, 1865. Niels immigrated to the US with his family at the age of twelve. Niels and Ida married on November 5th, 1883. Their first child, Marie, was born in August 1884.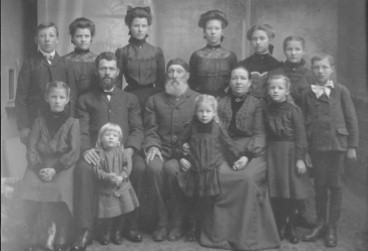 The photo above shows the Brons family (~1904) with the paternal grandfather before the birth of the last two children. Grandfather in Norwegian/Danish is Bedstefar. The Brons family affectionately called him "Bedste". Niels and Ida eventually had thirteen children; ten girls and three boys. We can see that Niels had a wry sense of humor, because he would tell people that he had three sons and each one of them had ten sisters! In order of birth, the children were:


1. Marie


2. Lily


3. Agnes


4. Amanda (the future owner of our house)


5. Paul


6. Alma


7. Otto


8. Ida


9. Elenora


10. Hilda


11. Herbert


12. Esther


13. Rosamond
Niels Brons provided these comments (circa 1921) regarding Boise Creek…
"The creek that ran right past our house and barn, Boise Creek, had year after year, overflowed its banks until the silt had built its bed so that it was higher than the surrounding country. When we came, we cleaned the bottom of mud, leaves and branches down to pure sand, so that it did not overflow its banks at our place, but everywhere else the flat country would be like a big lake when the snow melted in the mountains. Some farmers thought this hurt their land, although in reality, it spread a layer of silt that made it more fertile. They therefore, started a drainage district. A deep ditch was dug further south and diverted the water from our beautiful creek into the ditch".
"We were sorry to lose our clear cold water, that we used for the cattle as well as for drinking water. I dug a well, but the water contained so much iron that we could not use it. Now we had to try something else, so five of us farmers got permission from the Tacoma Waterworks to tap their 48 inch pipe that carried the water from Green River, 12 miles north of Enumclaw to Tacoma. This pipe runs parallel to the Northern Pacific Railroad tracks. The point at which we tapped the pipe was about a mile from my corner, and it was quite expensive to lay a 2 inch pipe to the different farms, but after the first outlay, it was very cheap. Now we had good water".
"We had electric light before this, and now that they had telephone in town, the farmers made up several districts and put in their own telephone lines. Our line cost us our work plus $13 each. We had the service of the office in town for $2.70 per year, except for long distance, for which we paid the regular rate".

Acreage Division
Niles wrote the following after he recovered from a lengthy illness during the 1918 influenza pandemic. Sadly, Ida did not recover. Note: the 1918-1919 Influenza Pandemic killed at least 40 million people worldwide; some 675,000 people here in the United States.
"Since I did not have the strength nor the inclination to farm again, I decided to give two acres to each of the children, if they would pay the mortgage that I had been forced to take with all this sickness. This they agreed to, so I divided the lower 26 acres into 13 lots and numbered them 1 to 13, and then had them draw lots. They each got a deed on the lot they drew, but what should they use the two acres for? Five of them sold their lots for $800. Otto traded his for a car. Paul built a house and barn on his and lived there until he sold it and moved to Seattle. The other six kept theirs for several years and sold the hay that was raised. I sold four more for a good price. What was left I could take care of, and with my salary as Treasurer of Farmers' Mutual Insurance Co. I could get along nicely."
When Niels divided up his 50 acres, his fourth daughter, Amanda, became owner of the land that is now our home, Boise Creek Farm. Here is what we know of Amanda's story.

Amanda's Story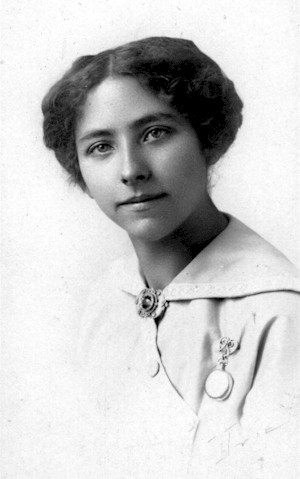 Amanda Brons was born on January 3rd, 1889 in Elk Horn, Iowa. She was the fourth child born of thirteen. Amanda was nearly ten when the family moved to Enumclaw.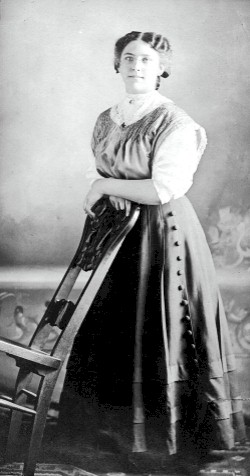 Above (left) is Amanda picking berries and (right) a formal portrait.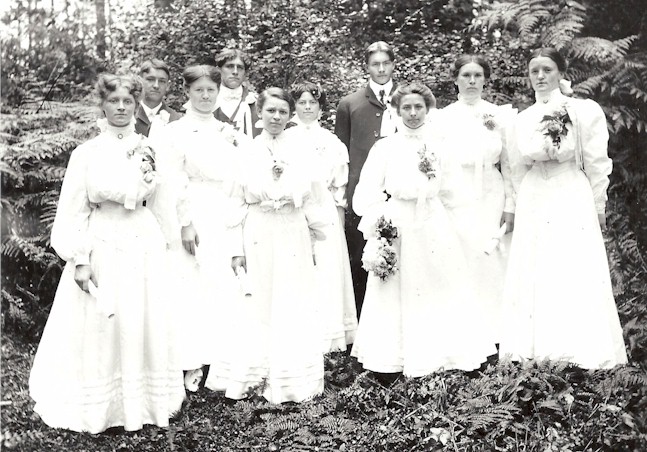 The photo above was found in the Historical Archives of the Enumclaw Public Library (photo #67). On the back is written: Eight grade graduation, 1908? From left to right: #3 Bessie Montgomery, #5 Alma Brons, #8 Amanda Brons, #9 Rose Grothen.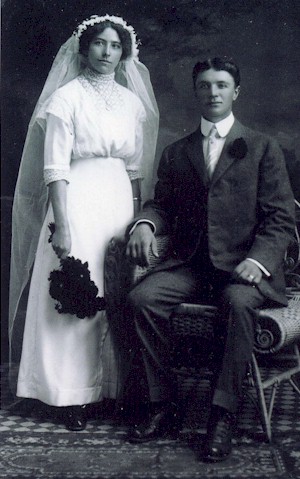 Amanda married Victor Nelson on April 27th, 1913. Victor was originally from Henne, Denmark . Victor and Amanda moved to Roy, Washington and started a family. Their first born child was a son, Harvey Sigfred, born in 1915. In 1917, daughter Elenore Marjorie was born.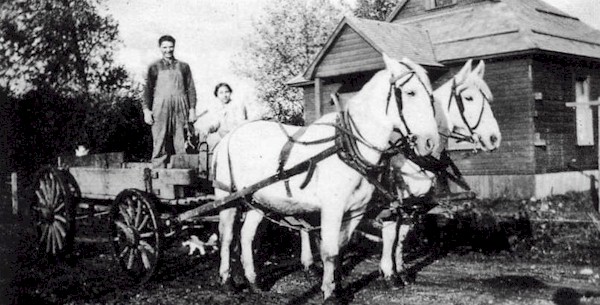 Victor and Amanda (above) on a horse-drawn wagon at their home in Roy.
A year after Elenore's birth, the family returned to Enumclaw to live with Amanda's parents. It is likely that Amanda wanted to provide care for Niels and Ida who were both fighting influenza during that terrible pandemic. Soon after returning, Victor built Amanda a small house (partially shown in the photo below) on her new two acres. In 1919, Victor and Amanda welcomed their third child, daughter Bernice Loraine. The house was located near the corner of Warner and Blake, but no longer exists.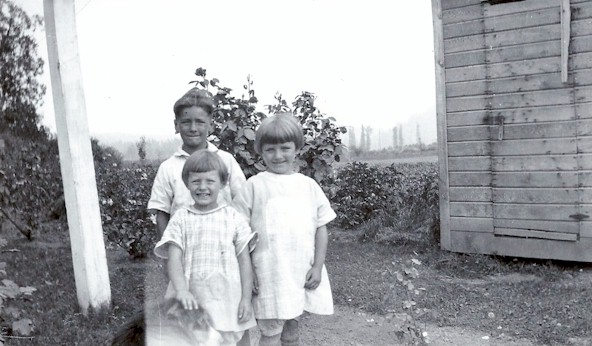 Just one year later tragedy struck the young family when Victor died of Bright's disease in April of 1920. At the age of thirty-one, Amanda became a widow with two small children and a baby to care for.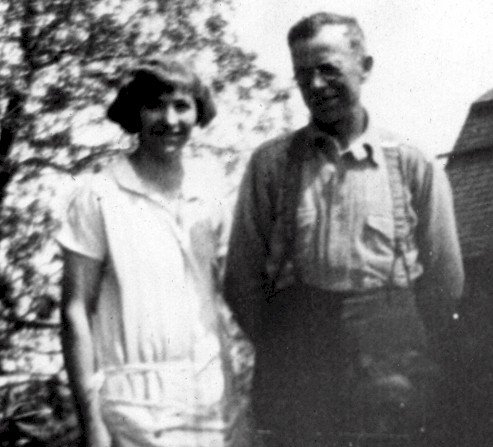 However, happier days were coming for Amanda. Six years after the loss of her first husband, Amanda married Jens Peter Waldemar Andersen (known as Walter) in January 1926. Walter was born in Denmark in 1875. With the help of Amanda's father, Walter built his wife a beautiful farm house (now our house) closer to Boise Creek. Below is one of the earliest photos of our house.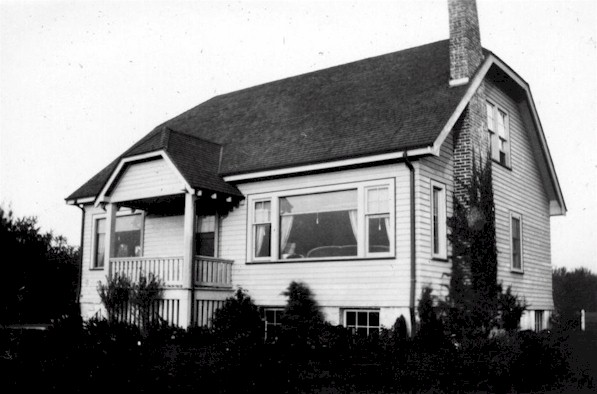 Walter, Amanda, and the children moved into their new house in 1927. The Andersen family was the first to call the house home. Unfortunately, tragedy struck once again when just a year later Bright's disease claimed another victim. Walter died of this painful kidney disease with complications from lung injuries caused by fighting forest fires. Twice widowed, Amanda remained in the house and raised her children. In 1941 Amanda sold the house and moved into town.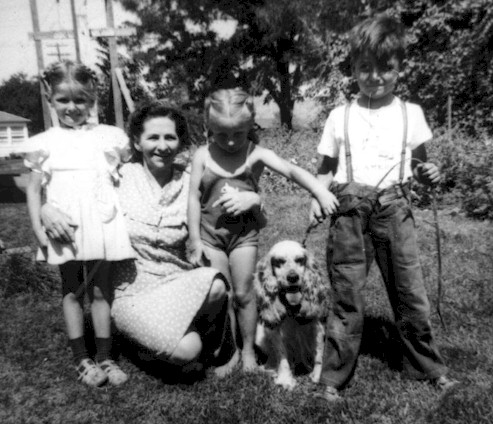 The photo above, taken in the summer of 1946, is of Amanda and three of her eight grandchildren. From left: Elenore's daughter, Claire McIntosh Lambertus (almost aged 5); Amanda, Bernice's daughter, Barbara Smith Britton (age 3); Torque (the McIntosh family dog); and Elenore's son, Robert McIntosh (age 6). Amanda was visiting her daughter Elenore's family in Okanogan, Washington. Elenore married Donald McIntosh – both were Enumclaw High School graduates. The family moved to Okanogan where the McIntosh family owned and operated a local feed store.
During her life, Amanda worked in Seattle at Northwest Mutual. She passed away in 1965 in Montecito California. Elenore passed away in 2012, just two weeks before her 95th birthday.

Boise Creek Farm Through the Years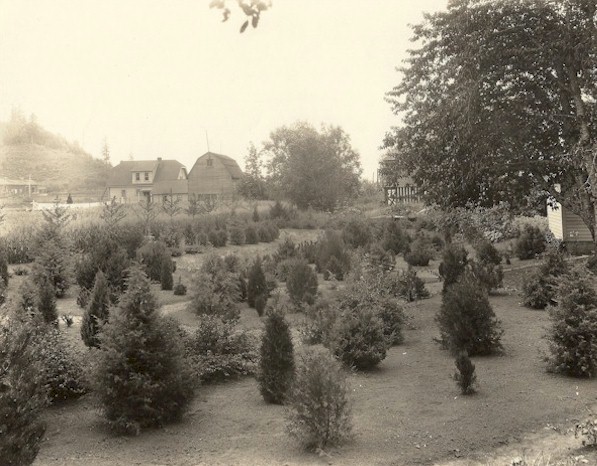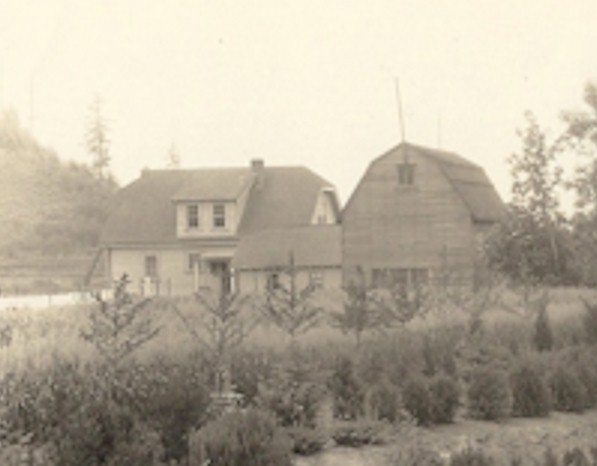 Amanda's farmhouse and property were close to her parent's house as we can see from the late 1920's photos above. It was taken from Niel's and Ida's backyard looking west. We see the back of Amanda's house, a small garage, and the original Brons family barn. Amanda acquired the old barn when she received her two acres. The house, garage, and barn are still in good condition today. The farmhouse, built in 1927, was solidly and soundly built. On the back of the actual photograph is written:
"Taken from the fruit orchard looking west; Amanda's new house, garage, and old barn in the background. You see Benson's place up by the hill".
Benson's place has now been in the Van Wieringen family for a great many years.
Today, the top story at the back of the house spans the full width, because the upstairs was expanded on either side of the two-windowed dormer. A mudroom was added where the back porch once stood and the back door moved to the north side of the building. You can see the old back door beneath the back porch roof. The original back door is now an interior doorway between the mudroom and the kitchen. An original exterior window maintains its place between these two rooms. The old barn is well over a century old now, but we no longer have lightening rods attached.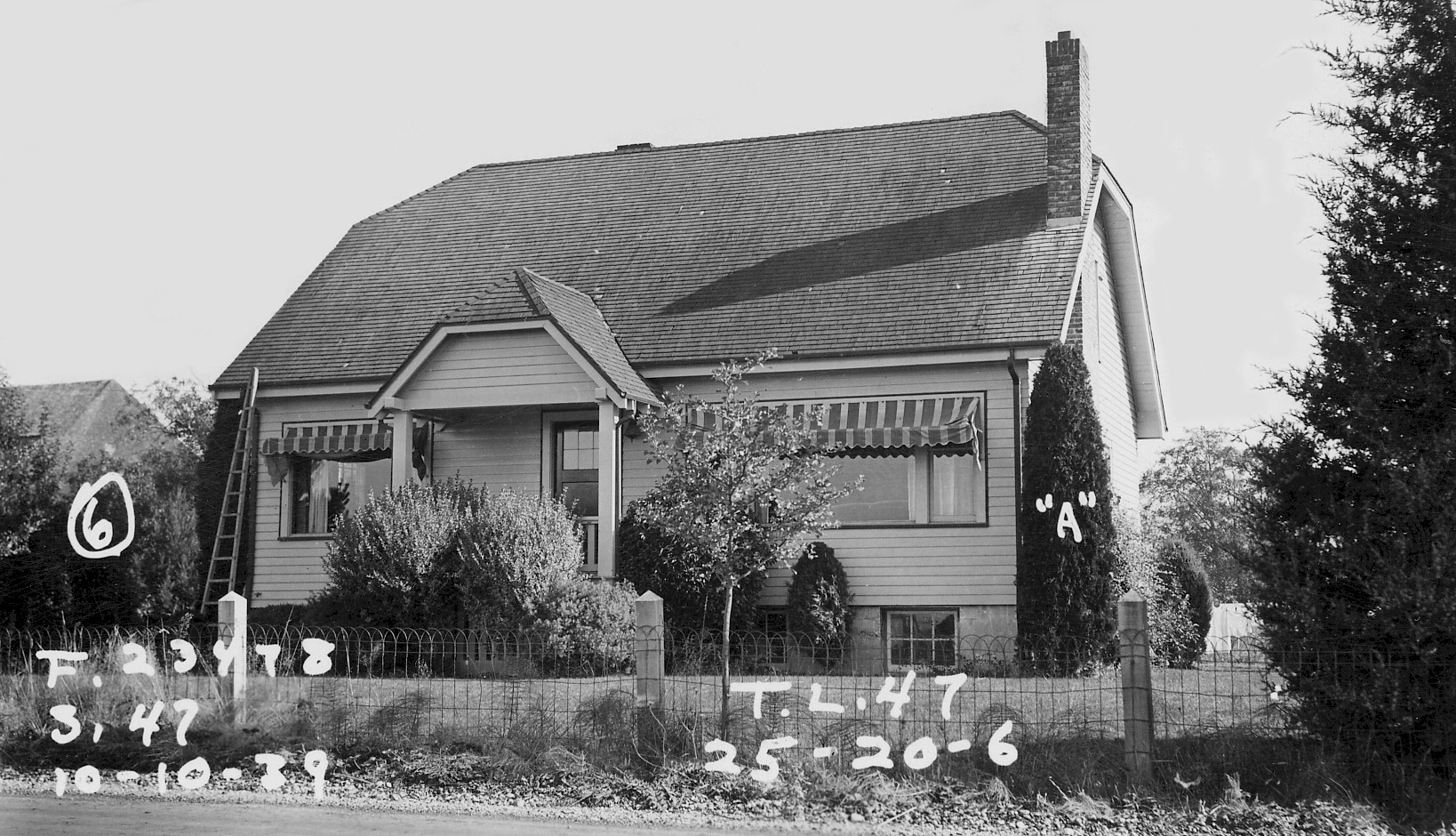 The 1939 image above is of our house twelve years after it was built.
Source: King County Historical Archives.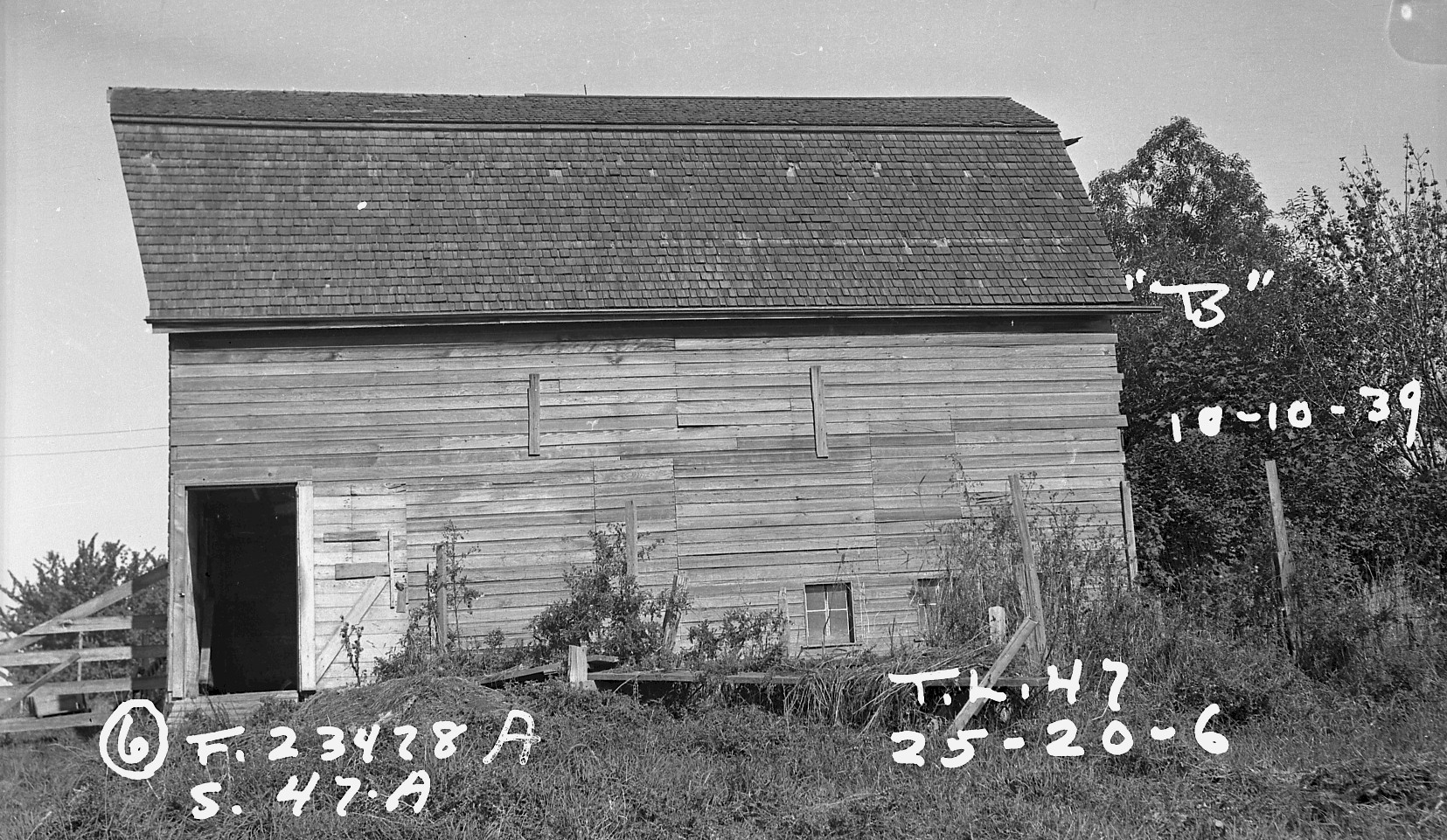 The 1939 image above is of our barn; it's about 41 years old. This is the original Brons barn constructed around 1898. Today, we have newer siding over the old wood.
Source: King County Historical Archives.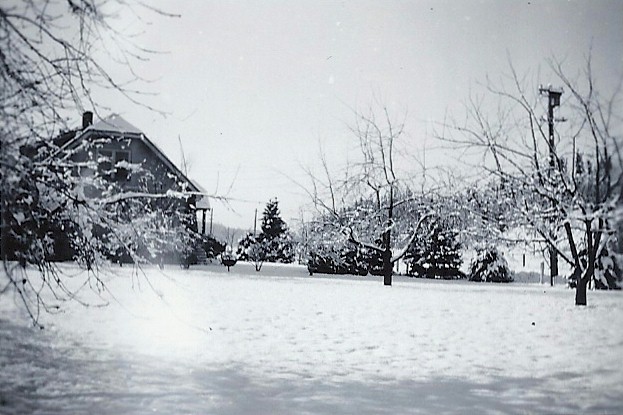 The image above (circa 1940) is of our house one long ago snowy winter. The second story addition was not yet constructed, and most of the trees no longer exists. One apple tree (to right of center) did survive and today it is at least 90 years old. The Anderson family still lived here at this time.
Source: the Brons family archives.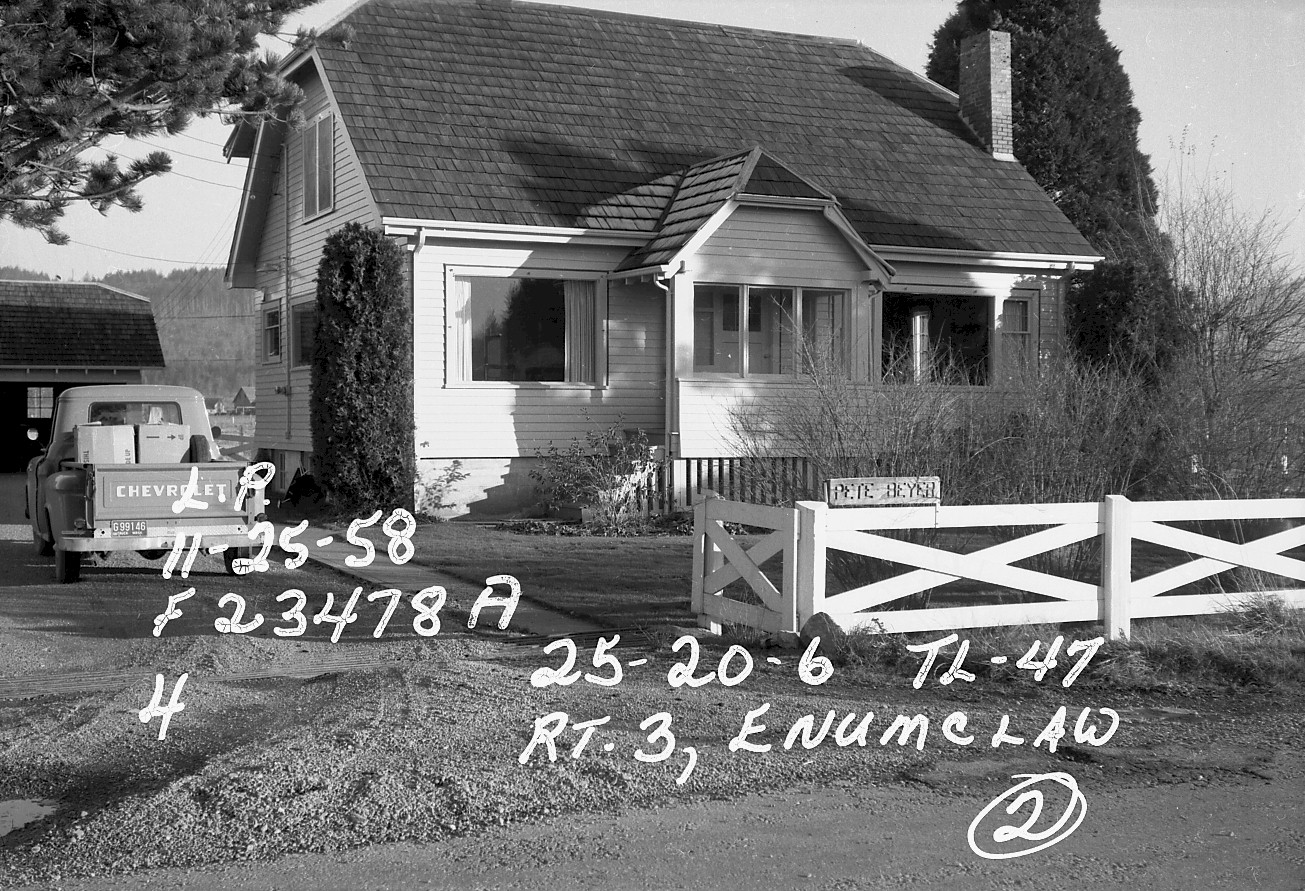 The image above from 1958 is of our house at 31 years old. The Beyer family owned the house during this period.
Source: King County Historical Archives.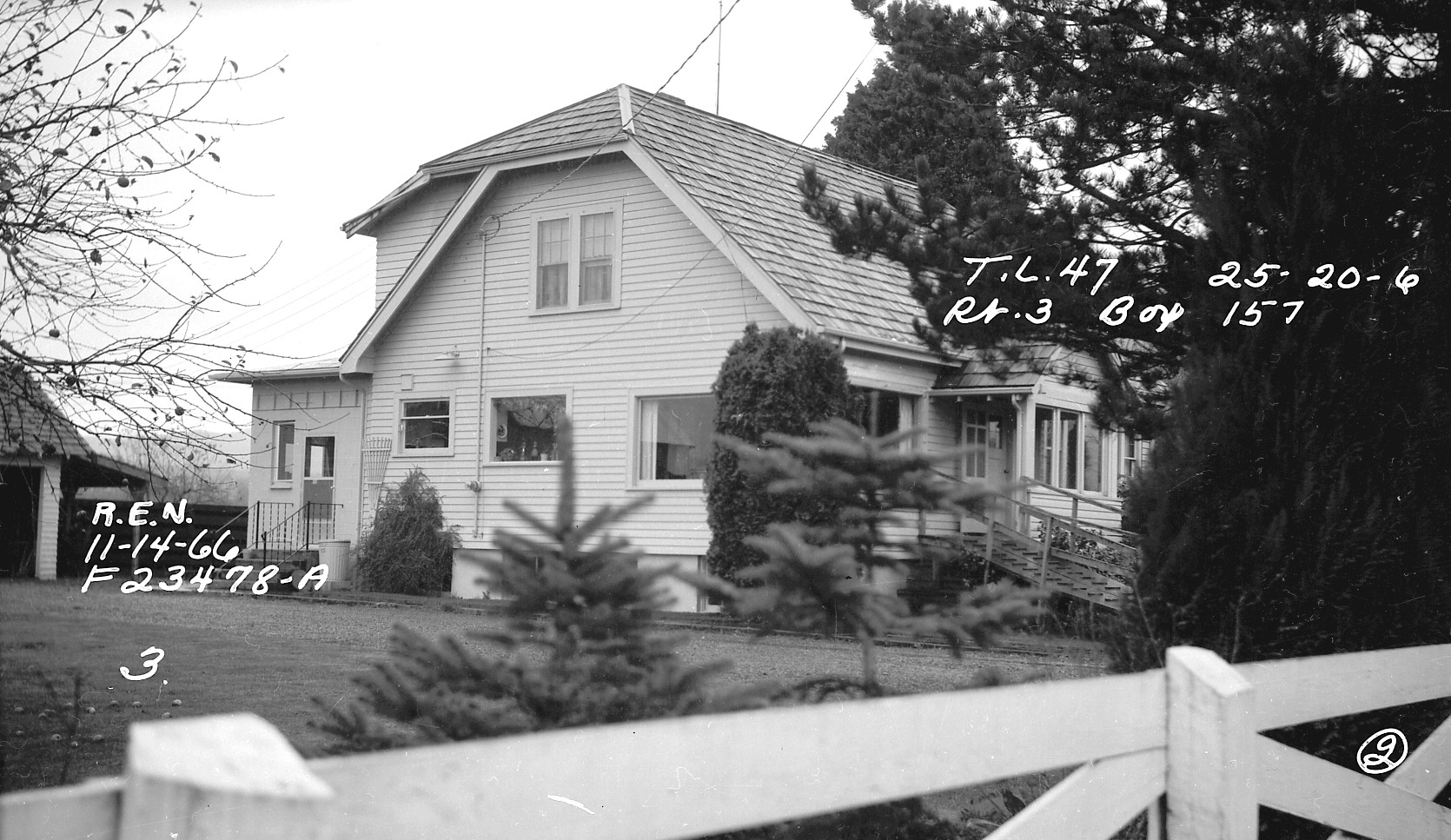 The image above from 1966 is of our house at 39 years old. A mudroom was added to the back of the house. The Beyer family still owned the house during this period.
Source: King County Historical Archives.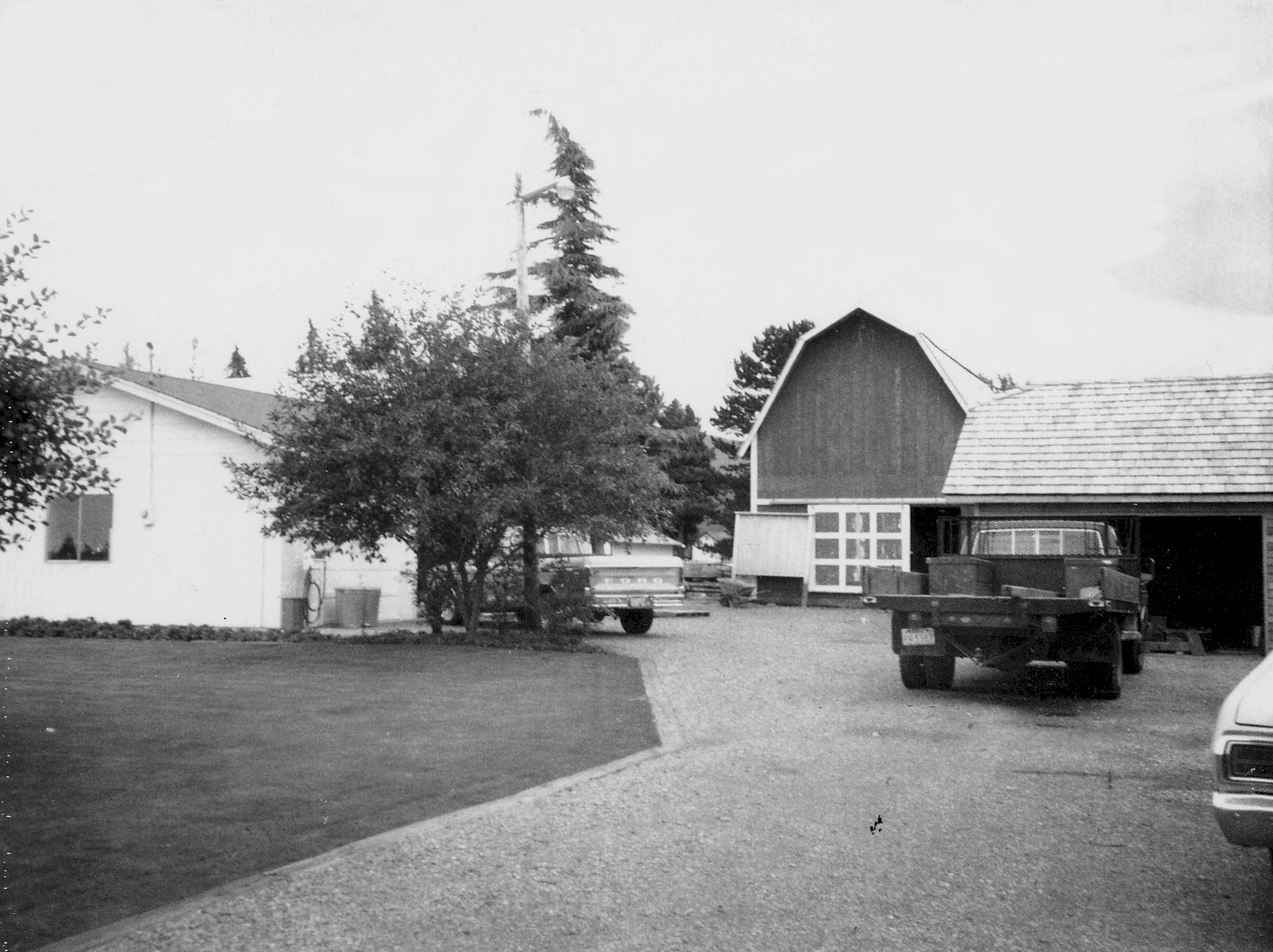 The image above from 1983 is of our shop, barn, and garage. During this era the small office had not yet been added to the shop. The Aldrich family owned the house during this period.
Source: King County Historical Archives.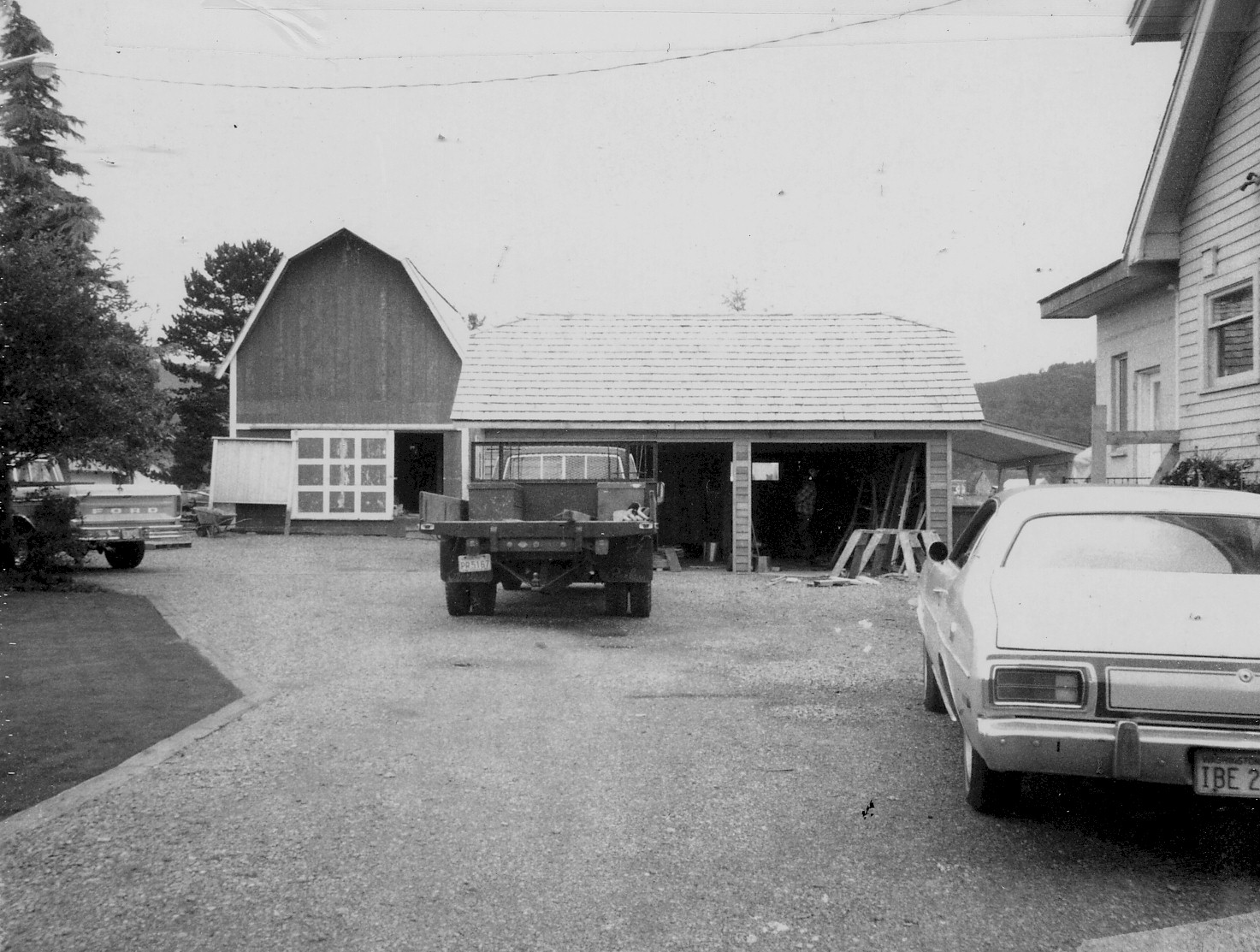 The image above, similar to the previous photo is also from 1983 is of our barn, garage, and house. It appears that the garage addition is in work. The Aldrich family owned the house during this period.
Source: King County Historical Archives.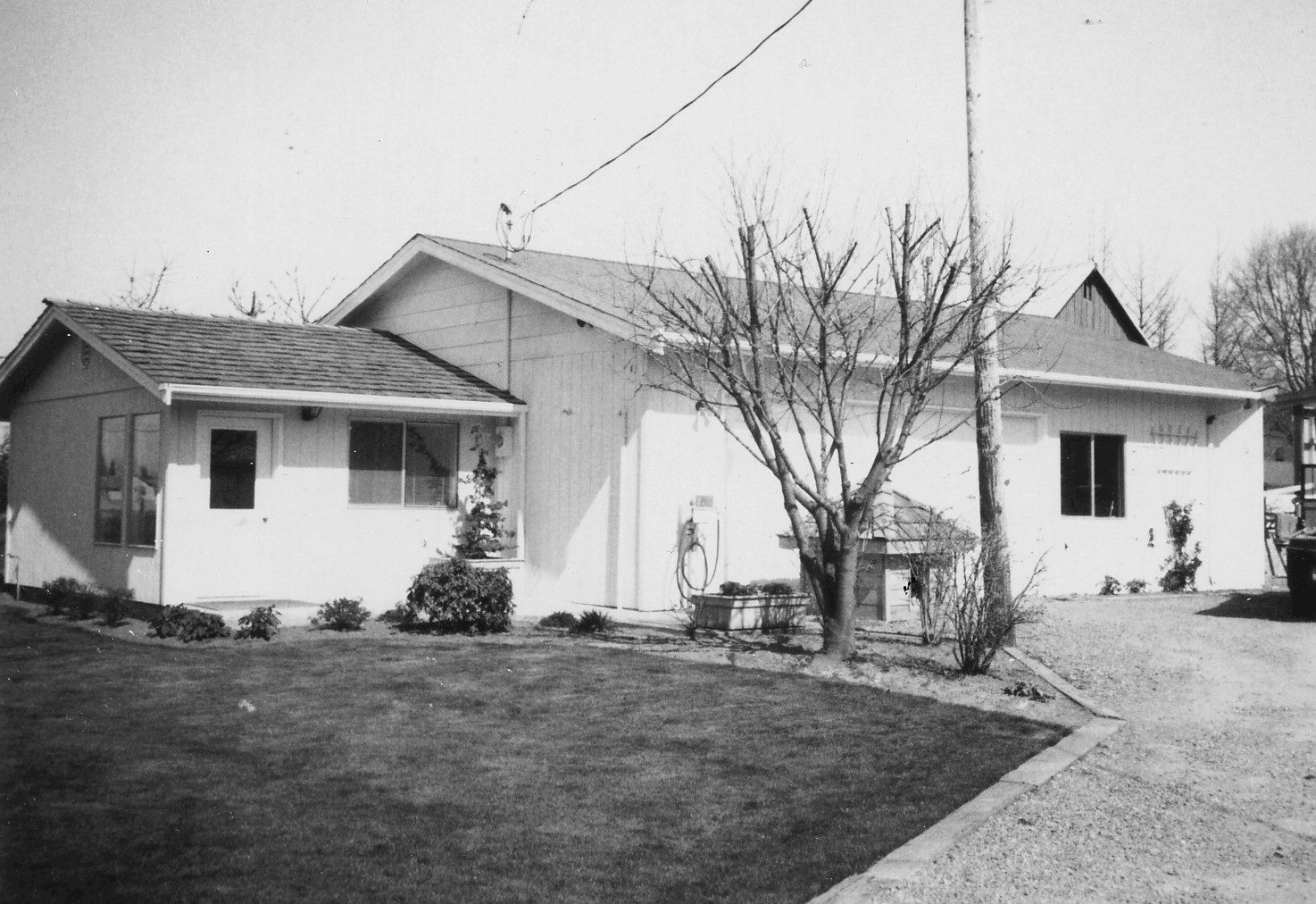 The image above from 1990 shows the new office addition on the west end of the shop. The Aldrich family still owned the house during this period.
Source: King County Historical Archives.

Occupancy
Here are the 5 families that have lived in our house:


Walter and Amanda Andersen, 1927 to 1928 (1 year)


…Amanda Andersen (sans Walter) to 1941 (14 years)


Peter and Mary Beyer, 1941 to 1972 (31 years)


Joseph and Joy Aldrich, 1972 to 1996 (24 years)


John and Mary Pokorny, 1996 to 1998 (2 years)


Bob and Gina Ames, 1998 to the present (24 years so far…)

More About Niels Brons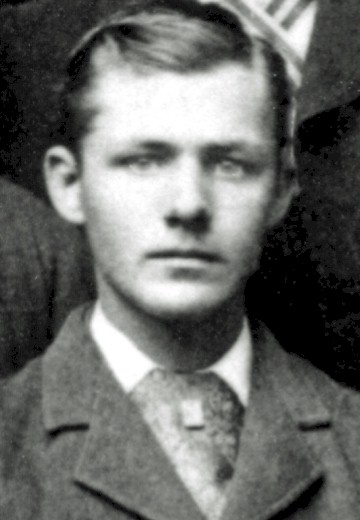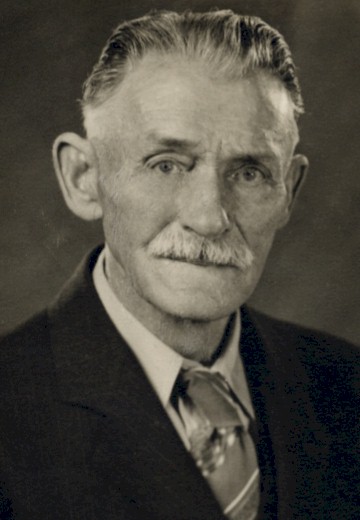 Niels Brons in 1881 (above left) and in 1942 (above right).

Shortly before the Brons family immigrated from Denmark in 1872, Niels' father, who worked as a servant, died in Portland, Maine. He left behind his destitute wife and two young sons. At age twelve, Niels took a job in a shoe factory for four dollars a week, working ten hours a day and continuing to go to school at night. In 1876 he moved to Clinton County and then to Elkhorn, Iowa where he married Ida Boysen, bought a small farm, and continued to supplement his income with other jobs.
Although no records have surfaced, the Brons family probably knew the Bruhns and Johansens, who preceded them from Elkhorn to Enumclaw. In 1898 Niels fulfilled his dream of owning a dairy farm, when he and his family purchased a fifty-acre tract south of town (Enumclaw). They cleared stumps, planted crops, built a house, and acquired a herd of purebred Jerseys. Niels was a leader in the Danish brotherhood and the Danish Lutheran Church, where he, Ida, and their thirteen children played an active part.
In the 1920s after Ida's death, he retired from farming, but continued to serve as long-term secretary of the Cooperative Creamery, the Fruit Growers' Cooperative, and the Enumclaw Grange, and as treasurer of Farmers' Mutual. Niels was elected Treasurer for Farmers' Mutual in 1901 and held the position for the next thirty-four years. Niels was elected Secretary for the Enumclaw Co-Operative Creamery Company in 1904.
During his lifetime, Niels Brons wrote many stories and essays about his life and experiences. He sent many these to his Danish homeland where they were printed in the local newspaper. His family has translated them into English, compiled them, added images, and published them.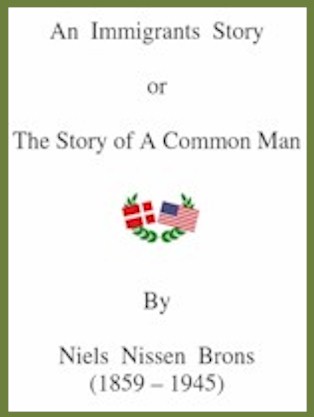 Niels Brons passed away in 1945 and is buried in Solvang California.
We are deeply grateful to the Brons family and descendants for generously sharing with us their family history and photos. Thank you so much!